Sheets:
Name: (Everyone has a name)
Nick Name: (if you have one.)
Age: (Read rules for this)
Rank: (If covy use covy rank, if human use human. But no generals okay?)
Kind: (Elite? Human? ETC)
History: (Also known as bio)
Personality: (SE)
Appearance: (Duh)
Armor ability: (if have one)
Weapons:
Skills: (Skills and down sides please)
Spartan number: (if Spartan)
Hollen123:
Spartan:
Name: Rodney King
Nick Name: Techhead
Age: 15
Rank: Commander
Kind: Spartan III
History: Rodney has always been fascinated by technology, earning him the nickname Tech head. He's often dissected peaces of covenant machinery to see how they work. Getting around security systems has hardly ever been for him. Several times hacking failures have gotten him and his team into big pickles (LOL) on one occasion it cost the life of one of his team, from there on her was much more cautious with his work. Eventually He figured the best way to go through life is to take it seriously and enjoy every minute of him, making a very social person and a strong leader.
Personality: Head strong, social, strong leader, good with technology, always follows orders, smart, strict when angered.
Armor ability: Armor lock
Weapons: DMR, magnum, standard combat knife.
Skills: Hacking, reprogramming, close range combat
Spartan number: 121
Appearance: 7 feet tall, Brown hair, green eyes, five o'clock shadow, white skin.
ODST:
Name: Kemp Graw
Rank: Lieutenant
UNSC, ODST
Age: 26
Description: Nicknamed the Scavenger, Kemp believes no piece of technology still in working order should go to waist as well as covenant technology. He also is an inventor, feeling his ODST armor needed improvement, he added several systems to it. Salvaging a Shield from the corps of a jackal he added it to the left arm of his armor, he salved san energy sword from the corps of an elite and added it to the right arm of his armor, based on early Spartan armor schematics, he made hydraulics and motors to improve his speed and strength, but they are not as efficient and don't make him as fast as the original schematics for safety reasons. He has taken time to learn what he can of Covenant systems and can try to hack open a door or two, but sometime he might accidentally end up locking himself and everyone with him in, or shut down a vital system, but as far as his techno skills go for human technology he is a wiz.
Apperance: He has black chest armor with a siloet of a grey horse on it.
Skills, , technology, Programming, hacking
Weapons: DMR, energy sword, pistol.
Dragockon:
Shangheili:
Name: Thelen' Thamee
Nick Name: -None-
Age: 15
Rank: Training Ranger
Kind: Shanghelil
History: Still in his young years he was a good fighter on his planet, but he always had a sense of fear the rest of them didn't. He sometimes seemed like he'd get captured then die for the path. But he always told them no he would always die for the path but he said this more to himself the anyone else.
And now he has the chance to proof it.
Personality: quiet, determined, but smart.
Appearance:
Armor ability: jet pack
Weapons: Plasma rifle, energy sword
Skills: Can leap very high thinks more like a human than like an elite, this has both good and bad's to it depending on your view.
Spartan number: -non-
Spartan:
Name: Zirena
Nick Name: Blade
Age: 13
Rank: Sargent second grade
Kind: Spartan III
History:
Personality/bio: Ever since her brother, and a friend of hers died she has not talk or not that much, not many people know exactly what happened or why but it has been close to a year sense then and she has said nothing. The 'doctors' say if she try she can talk but she simply has no words. She is a shy person but once in the plan or mission she is determined to proof herself. She has few friends as people stay away from her she seems some times to not care at all but deep down insults go to heart, and when someone she knows get hurt it hurts her as well. She tries to hide this but it's over whelming for her sometimes and this is one resend she wears her helmet so much. But her team mates learn to read her even with it on. She is young and has proved to be skilled in the past at stealth tactics. She gets her nick name because she uses a large blade in combat and is stealthy.
Appearance: Black sleek strait hair that goes down to her shoulders and stops there. White slightly pale skin and dark blue almost unnatural eyes, she is shorter than most people but it she is agile and strong legged, she is fast and good at climbing and jumping. But when she is being hit it takes more damage on her. She rarely get out of her armor which is why her skin turn slightly pale and but she take off her helmet some times. But it is still rare.
Armor ability: Evade
Weapons: large blade, SMG, and a DMR
Skills: Hand to hand fighting, Climbing of walls and other things of that sort.
Spartan number: 073
Name: Sara Mason
Nick Name: -none-
Age: 20
Rank: Sargent
Kind: ODST/hell jumper
History: Lived her life as an ODST, ever since her planet got glassed. Trained in combat and her team is small as they have been pick off in the resend battles. But there has been no transport for them as the UNSC has no extra ones.
Personality: Strong, determined and never gives up.
Appearance:
Armor ability: -non-
Weapons: SMG, sniper rifle
Skills: A pretty good sniper, but a even better leader.
Spartan number: -non-
ToorchWood_
Name: Vlad Marx
Nick Name: Archer
Age: 15
Rank: Major
Kind: Spartan III
History: Vlad's family has had a staggeringly successful military history with the UNSC for years. When Vlad was taken into the Spartan program, his family worried that an enemy had stolen their son. The first years in Vlad's training showed his incredible talent of hitting the target all the time, but was found to be somewhat weak in survival and tactical assignments. When the leaders recommended he become a sniper, he agreed, and his success made him a Major. He has little or no sympathy for the. Specializing in solo missions, but not entirely committed to them, he will sometimes use his armor ability to infiltrate enemy bases and put a bullet through their commander's head.
Appearance: Dark, spiky hair that often covers parts of his face. Brown eyes, and chalk-white skin. His appearance is somewhat creepy to others for the stunning black-white contrast. His armor appears as such:
Armor ability: Active Camouflage
Weapons: A simple Sniper Rifle, along with a last-resort Magnum and a few hidden frag grenades. In dire situations, there is a kitchen knife hidden in the plating of his armor. He has a habit of taking his victim's weapons, then discarding them after a battle is over.
Skills: Exemplary sniping ability, but cannot determine opponent's next action due to failure of understanding gestures and movements, making him near-useless in tactical combat and battlefield situations.
Spartan number: 240
Nick
Nick Name: Death-Machine
Age: 34
Rank: Brigadier Grade 2 (my actually rank)
Kind: Spartan II
History: His best friends... Dead... His parents... Killed by the covenant... Mercy... None. Nick has fought entire fleets of the covies without taking any serious damage. He fights alone so he doesn't get anyone hurt. He has beaten other Spartans to within an inch of their lives because of their disagreement. He does his work, and he does his work well. His profile, like Noble 6, is covered in black ink.
Personality: Next to always silent. He has the skill of an inheritor, yet has been demoted several times for pulling his weapons on his team mates. From then on he works alone. Most spartans who have seen him mow down the covenant have said: "He can bench press a house and squat an 18 wheeler."Appearance: Standing at a staggering 7ft 8in height, and weighing nearly 400 pounds make him a force to be recorded with. He has gray-green eyes and has normal colored skin. His hair is blond in color.
Armor ability: Active cameo
Weapons: Shotgun, Sniper, Combat knife.
Skills: A master at both close and long rang killing, he is an assassin sent on only the toughest jobs. He is also a master at hand-to-hand combat(See: Agent Tex from Red vs Blue, except with realistic strength.) His downside is that he doesn't work well with team mates, but is untouchable when alone.
Spartan number: 027
Name:Kra'skel
Nick Name: Sabre
Age: 42
Rank: Field Marshal
Kind: Elite
History: He shares a brief history with Nick, as he was the Spec ops that killed Alia, and later escaped. He was promoted several times and became renowned for his trickery and stealth. This came from his Spec Ops training. He later was promoted to his field Marshal rank and gained great leadership. He always treats other covenant right. His strength and skill with *energy* blades earned him his nickname: Sabre, and he wears it proudly.
Personality: Normal for an Elite, but has had *special* training to speak a sort of broken English. He is an amazing team worker and is known to be quite friendly to his brethren, but vicious in battle.
Appearance: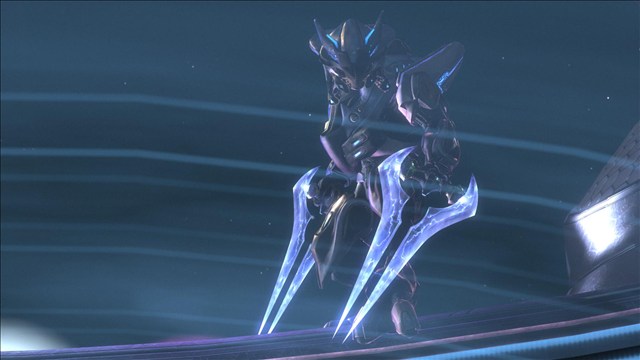 (Spartan view after being kicked off a covenant super carrier)
Armor ability: Armor lock
Weapons: Double energy sword, concussion rifle, Focus Rifle, double energy katana gauntlets, four plasma grenades.
Skills: He is very much like an inventor. He has created a powerful, Jackal-like shield in place of his left energy dagger gauntlet, and instead of a dagger on the other, is a long, thin sword. It is a backup weapon that looks very much like a katana. He is a master as sword wielding and very clever. He has even tricked spartans into helping him. He can speak English.
Buddy55555
Nick Name: Spark(or Sparky)
Age: 17
Rank: Spec ops: engineer
Kind: Human
History: Basic spartan, but with an interest for simplicity, he's always enjoyed being on the edge of battle, dishing out painful punishments with the hood of whatever vehicle he can get his hands on. The most eccentric approach you'll ever catch him executing is aiming a sniper rifle at a single enemy. He's always been a sort of engineer, so if you've got malfunctioning tech he'll get it fixed...most of the time...or else the tech blows up in his face...but that's only happened twice...
Personality: He tends to keep to himself, mostly when he's nervous. But when he's frustrated, he says his mind for sure. To most people, John has no sense of humor, but really he can laugh if you get to know him.
Appearance:
Armor ability: Drop shield
Weapons: Assault rifle, rocket launcher, four frags
Skills: Excellent demolitionist and driver, but he sticks out like a torch in the night
Spartan number: 1147